Cottleville Shamrock Parade & Run 2019
St. Charles County's largest event of the year starts at NOON, March 16th.
The parade runs from Warren Elementary on Weiss Rd. to Francis Howell Central High School on Highway N.
This year there will be approximately 100 Floats and Walking Groups!!
Food/beverage coolers, chairs, and other portable items are welcome.
Schedule



6:30AM
– Shuttle Service Begins
7:30AM – Road Closures Begin; No Shuttle Service
8:00AM – Shamrock Run Begins
9:30AM – Roads Reopen; Shuttle Service Resumes
11:30AM – Road Closures Resume; No Shuttle Service
12:00 – Shamrock Parade Begins
2:00PM – Roads Reopen; Shuttle Service Resumes
4:00PM – Shuttle Service Ends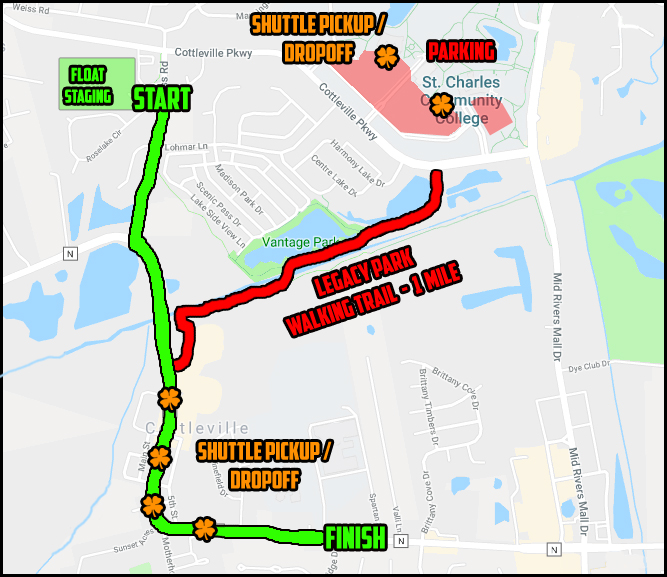 The Shamrock 7K Run & Fun Walk
Sign up HERE for the 7K race or the 2-Mile fun walk/run!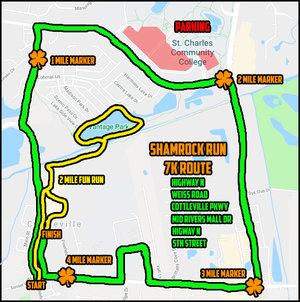 Parking
Parking is available at St. Charles Community College, approximately 1.5 miles from downtown Cottleville. The paved walking trails will be much quicker than attempting to park in town or use the shuttles during heavy traffic.
Handicap accessible parking is at Francis Howell Central High school. Do not park at any business or private property without permission. Non-permitted vehicles in resident/owner-only zones may be towed at the owner's expense.